ABOUT THE EVENT
We are thrilled to announce that Mercy For Animals will celebrate its 22nd year in service of creating a compassionate food system with a special virtual gala. The Mercy For Animals Hope Gala will take place on Thursday, June 10, 2021, in a one-of-a-kind virtual experience.
5 p.m. PDT / 8 p.m. EDT – Pre-event starts. (Settle into your virtual seat, and learn more about Mercy For Animals.)
5:30 p.m. PDT / 8:30 p.m. EDT – Event starts.
Featuring
Tabitha Brown
Hope Gala Host
Pinky Cole
Community Changemaker Award
Jane Goodall, PhD, DBE
Founder of the Jane Goodall Institute & U.N. Messenger of Peace
Hope Award
Erik Hastings
Hidden Hero Award
Miyoko Schinner
Global Impact Award
Durrell "TANK" Babbs
Presenter
María Gabriela De Faría
Presenter
Christian McGaffney
Presenter
Madelaine Petsch
Presenter
Joaquin Phoenix
Presenter
Christopher von Uckermann
Presenter
Big Sur Bound
Alison Luff and Matt Magnusson
Special Musical Performers
Avasa and Matthew Love
Special Musical Performers
Johnny Manuel
Special Musical Performer
Jade Novah and Devin Johnson
Special Musical Performers
Tigerlily
After-Party Special Musical Performer
SOFI TUKKER
After-Party Special Musical Performer
Tonya Kay
After-Party Dance Performer
Aubrey Miller
After-Party Dance Performer
Cortney Palm
After-Party Dance Performer
Gianna Simone
After-Party Aerial Performer
Rachele Brooke Smith
After-Party Dance Performer
Nikki SooHoo
After-Party Dance Performer
Sukantti
After-Party Dance Performer
Celebrity Honorary Committee
We are grateful for the support of our celebrity honorary committee!
Host Committee
David Benzaquen, Gloria and Geezer Butler, Mike Chou, Neysa Colizzi, Amy Dubman and Brook Dubman, Claire Gates and Family, Anthony Fleischmann, ForGoodnessSeyks, Tatiana Freitas, Jim Glackin and Dr. Natalia Ruiz, Courtney and Gordon Gould, Siddharth and Nabiha Hariharan, Amanda Hearst, Sandhya and Prem Jain, Shephali and Mohit Jain, Stacey and Don Kivowitz, Virginia Kress, Joshua Levine, Rebecca and Ariel Nessel, Miyoko Schinner, Timi and John Sobrato, Jennifer and Pavle Stojkovic, Adam and Amber Tarshis, Robert Torricelli and Susan Holloway Torricelli, Tracy Vogt, Diana Walsh and Kent Walker, The Diane Warren Foundation, Elisa Wolfe.
Thank You to Our Sponsors
Supporter & Friend Sponsors
The gala offers businesses and organizations a one-of-a-kind chance for exposure among high-profile guests. Sponsorship packages are ideal for any business owner, individual or corporate, seeking to align their brand with Mercy For Animals' mission to reduce suffering and end the exploitation of animals for food.

For more information about the gala or sponsorship opportunities, please contact Henry Lucero, director of events, at [email protected] or 1-866-632-6446.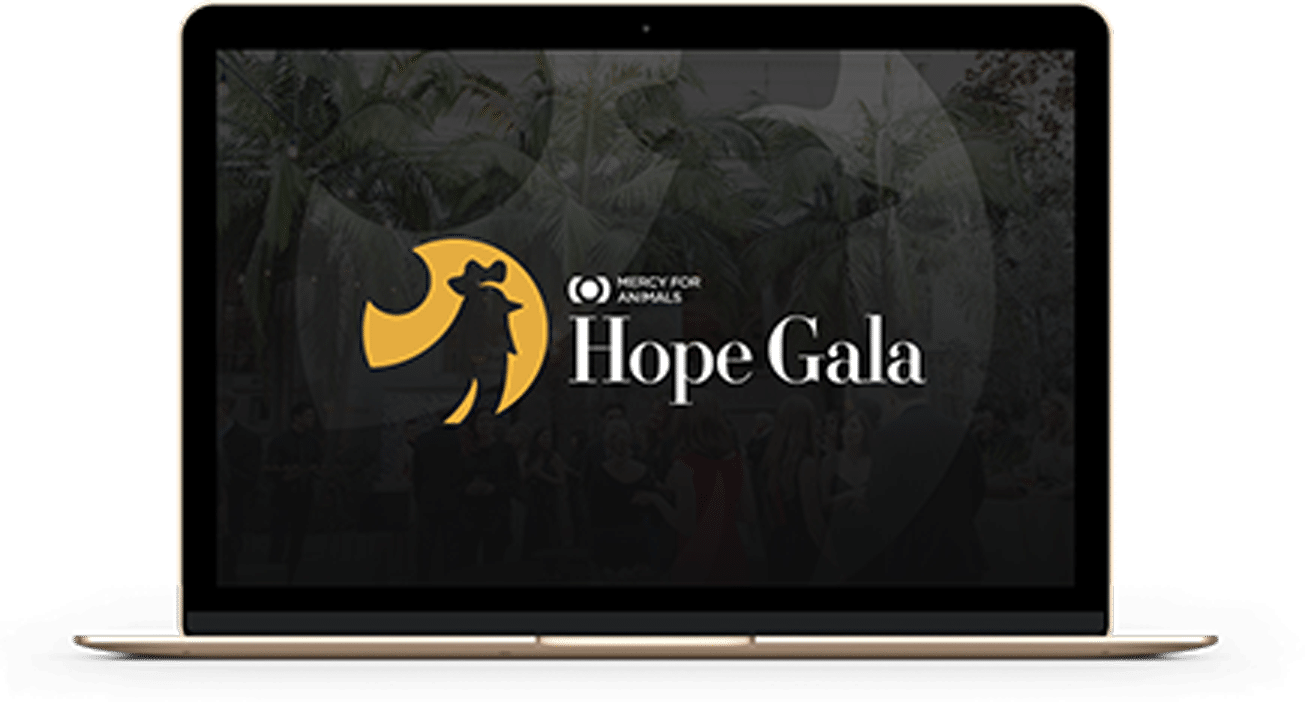 Because of the ongoing pandemic, we made the decision to cancel all in-person events until health and safety recommendations change. We're still excited to bring you an evening of inspiration, storytelling, and community to benefit the animals who need our help. The online platform will enable guests to stream the event live; engage with fellow guests via chat and video at virtual tables; and take real-time action, such as participating in the donor challenge or bidding on auction items.
Enjoy the event from the comfort of your own home!
No driving or car service needed—leave your keys on the dresser and your car in the driveway.
Party with the stars—virtually!
All time zones welcome.
TICKET SALES CLOSED
In Memoriam
Susan Weingartner
December 14, 1959–November 4, 2019
In 2019, the animal protection movement lost an icon: activist, mom, photographer, fashionista, and all-around sassy, fun-loving superhero Susan Weingartner. Susan planned our galas for six years with so much love, energy, and excellence. We dedicate our 2021 Hope Gala to celebrating her life and impact. A key member of our Mercy For Animals family and the movement, Susan was a friend and mentor to a generation of activists, and we continue our work with her spirit and zest for life. We hope you enjoy the gala and all our events with the same joy Susan brought to our world.